Building communities: planning for a clean and good growth future
Work in progress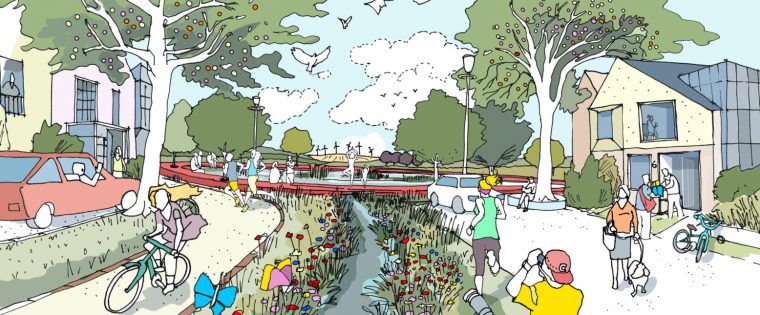 The question remains as to whether the importance of placemaking and sense of community will carry any operational weight under a reformed system and how communities are expected to be involved.  On the face of it, the proposals to front-load applications and the plan-making process itself are an improvement on the current situation as far as community engagement is concerned.
Unfortunately, the white paper does not provide information on capacity-building in neighbourhood planning, potentially resulting in an uneven distribution of such opportunities across the country.  According to a Localis expert panel which convened to address the issue last autumn, there are five key factors going forward for strong community led development to prevail:
Systems integration within communities – e.g.  GPs surgeries
Capacity-building for infrastructure
 Place leadership and using right tools to engage
 Open and honest about what can be influenced, continuous engagement throughout all stages of planning process
Focusing on the needs of younger people as the next entrants to the property market.
Similar questions await answer into the wider economic benefits be unlocked from planning in related fields of construction and placemaking, which include:
Community development and empowerment/capacity and capability in local government: resources for community development, social services, youth support are limited in many councils ahead of the next full spending review. How can new development help to support, pump prime and train individuals?  Similarly, can we focus on supporting the professional side of delivery as well as social/community groups?
How can the ambitions of the agenda for greater environmental and social value be secured if there is no implicit basis for this in planning reforms and what opportunities are there for achieving this in response to initiatives such as the Construction Playbook and the wider Green Paper on Procurement Reform? Construction's role in driving place prosperity as a key economic anchor – jobs created through construction, local employment, apprenticeships training opportunities, diversity in employment.
Infrastructure and amenity gain from planning obligations – e.g. education, open space, highways, community development.
Clean Growth and Net Zero targets for, among other things, green energy, use of materials, carbon efficient homes, open space, modern methods of construction (MMC) etc.
With this in mind, Localis has begun 'Building communities: planning for a clean and good growth future' as a major new research project, involving two parallel and interdependent studies looking at the social and economic value of housing to a national recovery that is rooted in place.
a) Placemaking and community
When announcing the Government's long-awaited reform document 'Planning for the Future' in August 2020, communities secretary Robert Jenrick pledged: "We want a society that has re-established powerful links between identity and place, between our unmatchable architectural heritage and the future, between community and purpose."
This is all good and unanswerable localist rhetoric.  As a term, 'placemaking' features on one sole occasion within the planning reform paper, while 'community' merits 35 mentions.  The paper sets out the hope that local design codes will in future be prepared locally and be based on 'genuine community involvement rather than meaningless consultation'.
When considering what it means to give residents a genuine say in the design of new development, we will expand on Localis's case for renewing our neighbourhoods from November 2020, 'Creating Powerful Communities', on why there is a pressing need to link planning reform to broader community development and empowerment.  Added to this is to adapt to experience and continue learning how well we are at creating new communities through better models of post-occupancy evaluation.
But without acknowledgement or direct support for placemaking, will it be possible to reinvigorate our villages, towns and cities and succeed in goals like putting health and wellbeing and cultural renewal to the fore to realise a vision for place prosperity?  So there is a case for evaluating the strength of what we have available in the design toolkit – in the form of 'Building for Healthy Life', the National Design Guide and National Model Design Guide.
And perhaps of equal importance, in the face of increased demands and a throttling of resources for planning, what capacity is there for councils to deliver on their placemaking role over the course of the decade, and how can capacity be boosted?
b) Driving place prosperity
In driving the post-pandemic recovery, the role of major local economic anchors will have to be reappraised if we are to ensure that motivated businesses renew their compact with place to encourage strong, inclusive and good growth with an emphasis on high-wage, high skill jobs.
So what kind of political economy is needed to integrate these sometimes disparate government agendas so that there is actual early proof of coherence at place and evidence to move at speed?  Among our considerations will be those of housing, clean growth, industrial strategy as well as local skills training, jobs, diversity and inclusion within the construction industry, and a focus on the power and value of local spend.
In short, how does Boris's clean growth revolution and parallel priority political need to build quality homes at volume where people want to live become achievable over the next decade?
There is no point regenerating areas or creating communities if they are allowed to deteriorate through lack of care.  So to ensure that our new communities are built to last and localities nurtured, we want to assess where ongoing and long-term ownership strategies could play a part.  For example, through the early adoption of stewardship models that support long-term resident engagement and also provide headroom for commercial revenue streams that support the preservation of local amenities.
For further information about the project, please contact:   Jonathan Werran, chief executive, Localis:  jonathan.werran@localis.org.uk
Project kindly supported by: