The industrial strategy should focus on stifled and stuck places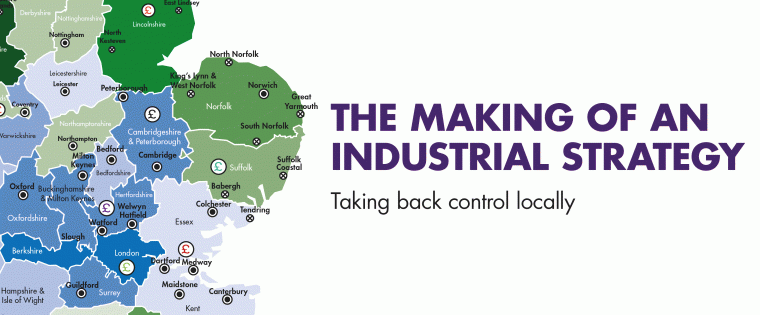 Our latest report, The Making of an Industrial Strategy, argues for an industrial strategy which provides places the support and space to lead from the front in their economic renewal. This goes against the grain of previous industrial strategies. Past governments have tended to avoid providing particular places with tailored support and instead favoured a national approach focused on industries, sectors or even individual companies. Undoubtedly some places have benefited as a result of this approach, London for example, but equally many have not. Focusing on industries or sectors is not wrong but the absence of 'place' as a key feature of, or 'lens' through which to view, an industrial strategy is a weakness. As Greg Clark, Secretary of State for Business, Energy and Industrial Strategy, has said: "for too long, government policy has treated every place as if they were identical… what is needed in each place is different, and our strategy must reflect that."
So, if the industrial strategy should focus on places, which places should it focus on? In our research we identify two sets of places which we believe need the most intervention from central government and strategic authorities: the stifled and the stuck.
Who are the stifled?
Those we identify as stifled are the places that are successfully reorienting their economies based on demographic and economic trends. They are fast growing, with associated growing pains, but are often stymied by their administrative boundaries. They often do not have the land to build on and need the power to grow. As we recommend in the report, one industrial strategy action amongst many that would support the stifled would be the right to petition government for a boundary expansion. Government would then consider whether a boundary should be redrawn to allow the stifled places additional land drawn from a neighbouring authority in order to meet demand for housing and economic development.
The stifled have been identified as local authority areas in non-Core Cities whose population grew by 7,500+ between 2010 and 2015. They include the following places.
| | | | | | | |
| --- | --- | --- | --- | --- | --- | --- |
| Bedford | Cambridge | Dartford | Maidstone | Norwich | Plymouth | Swindon |
| Bournemouth | Canterbury | Exeter | Medway | Nottingham | Portsmouth | Watford |
| Bradford | Colchester | Guildford | Milton Keynes | Oxford | Slough | Welwyn Hatfield |
| Brighton and Hove | Coventry | Leicester | Northampton | Peterborough | Southampton | York |
Who are the stuck?
Places we identify as stuck are the thirty most structurally challenged local economies in England, which perform poorly on multiple indicators, both long term demographic trends and more immediate short term economic performance. They are penumbra economies that have not recovered from the 1980s. They have weak labour markets and much of the growth experienced in the past few decades has been in poorly-paid and insecure sectors such as retail. Many have attracted a great deal of investment from central government and the European Union, but structural issues persist. Local council's political make-up is often multi-party coalitions or, at the other end of the scale, 'one party states'. Greater top-down intervention is required, focused on building local capacity in leadership and skills.
The stuck have been identified by their average score in the factors and indicators we identify as being most important in a place. We identified the thirty worst performing areas as stuck. See the scoreboard in Chapter Two of the report for a breakdown of data. See Appendix Two for an explanation of our method for ranking.
| | | | | | |
| --- | --- | --- | --- | --- | --- |
| Babergh | Dudley | King's Lynn and West Norfolk | North Lincolnshire | Stoke-on-Trent | Torbay |
| Barrow-in-Furness | East Lindsey | North Devon | North Norfolk | Suffolk Coastal | Torridge |
| Blackpool | Eden | North East Derbyshire | South Lakeland | Sunderland | West Lancashire |
| Christchurch | Great Yarmouth | North East Lincolnshire | South Norfolk | Tameside | West Somerset |
| Copeland | Isle of Wight | North Kesteven | Staffordshire Moorlands | Tendring | Wyre |
Where in England are the stifled and the stuck?
In the map below we have illustrated the twenty-eight places we identify as stifled and the thirty places we identify as stuck, alongside our proposed strategic authority boundaries. While the clear majority of stifled places are in southern England and by nature large towns and small cities, the stuck places are clustered across the country and typically rural. Along the Cumbrian and Lancashire coast lies one cluster, from Stoke-on-Trent to North East Lincolnshire lies another (one person we interviewed for this research described the area as England's rust belt), and another can be seen along the East Anglian coast. While successive governments have made significant progress addressing the social and economic issues of inner city boroughs, our research suggests there now needs to be a recalibration of policy to include the small towns of England and their rural hinterlands. The industrial strategy should be its starting point.