Lagging behind the retrofit challenge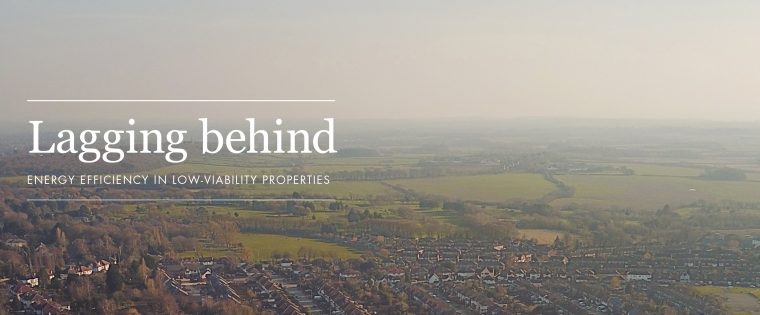 With the long-awaited publication of the Government's buildings and heat strategy earlier in the week, we now have a clearer sense of both direction and pace for the immense challenge of making our homes fit to heat in the age of net zero.
It's a salient fact that even by 2050 we will still be living for the most part in homes that are already built today – around 80% of homes.  This means making use of what we have and rising to the challenge of adapting existing dwellings to heat pump technologies.
Domestic energy use accounts for 14% of overall emissions and the overwhelming majority of homes, 90%, in England currently use fossil fuels.
The importance behind this week's government announcement is that as things stand, retrofit is not happening at anything like the pace or scale needed to hit national decarbonisation targets.  Despite the ambitious rhetoric, in 2020 we installed only 6% of the annual installation target of 600,000 heat pumps per year by 2028.  Other key targets were also heavily below par – only 9% of cavity wall insulations, less than 3% of loft insulation and 2% of solid wall installation.
And one important factor we can't overlook is that the huge regional variations in property costs when incentivising homeowners and landlords to retrofit their properties to meet national net zero targets risks deepening economic inequality.
In a report published today entitled Lagging Behind: energy efficiency in low-viability properties  Localis urges the Government to give serious consideration to the impact of regional variability in house prices and dwelling stock when installing heat pumps to hit decarbonisation targets.
In the course of our research, Localis has uncovered the fact that in some local authority areas of the north and midlands, the estimated costs of improving home energy are can be around one 25% of property values, while in affluent parts of London and the south east retrofitting with heat pumps represents less than 2% of overall property value.
For example in the red wall constituency of Burnley, where nearly four-in-five dwellings need to attain EPC Grade C standards, standard retrofitting costs of £24,000 are equivalent to a quarter of median house prices of £99,500.  However, in the Royal London Borough of Kensington and Chelsea, where median house prices are £1,317,500, retrofitting costs are equivalent to a mere 1.8% of overall property values.
There is also the issue of how tenure type may affect the process.  For example, owner-occupiers and socially-rented homes have until 2035 to upgrade to EPC Grade C or above while in the private rented sector the current targets are set at attaining EPC Grace C by 2025 for new tenancies and 2028 for all tenancies.  This appears to be a split incentive in that landlords, who do not pay energy bills and do not directly benefit from the energy savings that would underpin the case for retrofitting.
To this end, Localis calls on councils, especially in 'red wall' areas where property values are low, to collaborate in creating 'one stop shops' as joint ventures which would engage with residential landlords to retrofit at pace, and make use of aggregated scale to devise bespoke solution that met local need and personal circumstances.
This will be a case of using existing strategic powers where necessary and working collaboratively at the sub-regional level. And for local economic gain, and in line with the improvement of further education as laid out in the Skills for Jobs agenda, Localis calls on local authorities to come up with local retrofit jobs strategies to make use of skills and supply chain opportunities.
The ask of central government is to provide clear and concise information and timelines as well as more readily understood incentives.  And a specific ask of the Department for Business, Energy and Industrial Strategy would be to frontload the £3.8bn Social Housing Decarbonations Fund Demonstrator to deliver cost savings through acting at scale.
Without a tailored and localised approach that considers the varying housing economics of each locality, a 'one size fits all' approach to funding retrofitting  threatens to deepen regional inequality and counter efforts to level up.
If the challenge of how to effectively support retrofit properties in low value areas is not met, we risk creating a dangerous divide between different parts of the country.  Net Zero has to work in the context of a one-nation approach and must be made to work on this basis by respecting differences.
Jonathan Werran is chief executive, Localis