Creating true value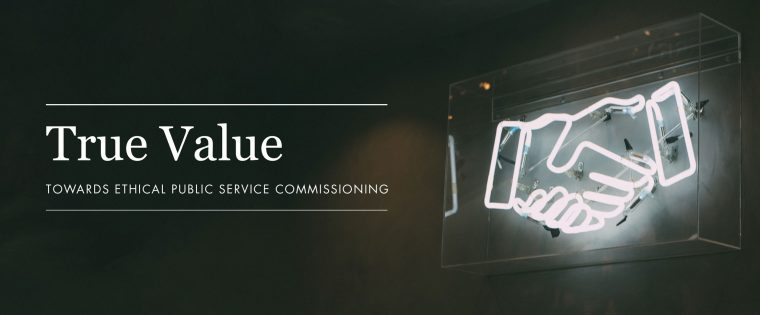 For many who are waiting to burst through the finishing line of 2021, news that the devo ball has been kicked into the longer grass of January 2022 brings a contented sigh of relief. We can catch up with all this big screen strategy stuff refreshed from the Christmas holidays. Hurray.
However, on Monday there slipped slightly below most people's radar a quite significant statement from the Cabinet Office secretary Stephen Barclay on procurement reforms.
Under new rules governing how the public sector buys £300bn worth of goods and services from commercial suppliers each year, companies with a poor track record for delivery or ethos will be prevented from winning public sector business. As a Brexit dividend, EU rules will be scrapped in favour of simpler and more flexible procurement to make it easier for the country's small businesses to win their share of the sizable pie. And, with a nod to the ubiquitous levelling up agenda, the creation of new jobs and businesses will be a decisive factor in procurement decisions.
It's against this backdrop, and in the historical setting of Churchill's War Rooms in the heart of Whitehall, that Localis this week launched its report examining what is at stake at local level from these national reforms.
Our study, 
True Value: towards ethical public service commissioning
, is based on a year's analysis of the place-based impact of transforming government procurement through three prisms, those of transparency and accountability, ethos and values and local economic benefit – or 'levelling up'.
The good news is that if fleshed out with local nuance and accompanied by appropriate resourcing, these procurement reforms have the potential to accelerate a turn towards strategic procurement in local government. However, this strategic shift won't be achievable without attention to the training, staffing and support for the local authority procurement function. And the proposed reforms seem to pay little heed to how councils, as democratically elected bodies use procurement to meet community needs.
Next year we celebrate a full 10 years of the Social Value Act – whose provisions to embed consideration of environmental, economic and social benefit in public sector spending has taken healthy root across local authorities. In the last decade councils have linked up small and large suppliers, social enterprises, anchor institutions and community groups for delivering social value.
But now is the moment to take advantage of this positive drive and pursue a new model of 'social procurement'. A model that is built around and further entrenches existing ethical principles as well as new commitments – around things such as collaboration, social value, sustainability, probity and higher labour standards to serve society in the long term.
Such a model would mainstream social procurement as an activity focused on benefiting local communities and become a new baseline for all local spend. For its success, such a social procurement model will require councils to refresh their procurement ethos and collaborate with communities and local stakeholders early on in the establishment of local priorities and strategies.
So, what more can local government do to procure more strategically? Well, if levelling up is to be about uplifting the most 'left-behind' places, communities and people up to a worthy standard of economic, social and environmental wellbeing, councils must first identify what is lacking in communities and where it is most prominently felt. To increase the amount of local impact from their procurement, mapping public spend among suppliers will be key; this will include the geography of spend, subsequent re-spend by suppliers, the ethos of their providers as well as gaps in spend by ward and function.
Better market consultation and earlier engagement with bidders would help communicate a council's key messages as to what its social value priorities are and enable suppliers to work out a place-specific social value offer.
As a path to place-based procurement reform, Localis has devised a seven-point local English charter for ethical procurement – which consists of good jobs, transparency, good business, understanding of local impact, carbon commitments, good training and high standards of practice.
As we wrote earlier in the year, this might not contain the TNT political interest of the levelling up white paper, but as a practical means to practically and immediately transform using readily available operational and logistical levers, it's been criminally neglected to date.
At heart, this isn't a technocratic exercise in analysing spending data and contractual jiggery pokery. It's about supporting communities to flourish, nourishing local enterprise to grow and rewarding suppliers who walk the walk as principled agents of change at the expense of unethical providers. If this is a complexity, it is there to be managed. Or, taking a Churchillian cue from our report launch venue, "out of intense complexities, intense simplicities emerge".
Jonathan Werran is chief executive, Localis
This article first appeared in the Local Government Chronicle