Ministers should not be afraid to let councils sharpen their commercial edge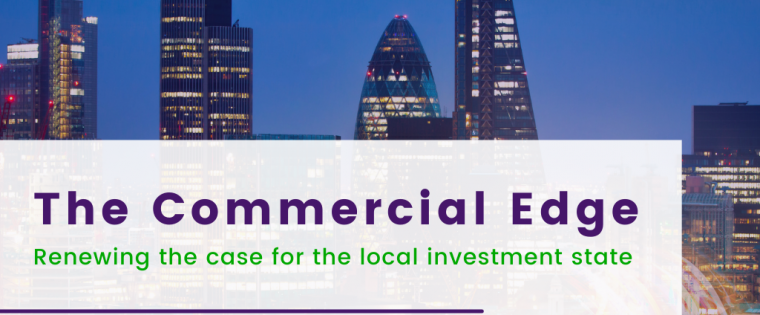 If timing is everything, there's never a good time to talk about local government finances.
In the spring it is ousted to its rightful place in the fiscal pecking order below health, defence and education – with a bone or two thrown into pothole relief. Summer's a washout.
When we are back to school in autumn, the room for attention is drowned out by party conferences (aside, memorably from George Osborne's reclamation of the political thunder in 2015 through business rates liberation). Come winter, once the autumn statement is picked dry of mellow fruitfulness, it's the annual pre-Christmas wait and chase until the very last moment for the local government financial settlement to fall down the chimney hours before Santa arrives.
And it's not surprising the attention economy for council finances is so paltry. The problems are better rehearsed than the cast of the Mousetrap and the proposed solutions, in lieu of the sort of fiscal devolution that could cut the Goridan knot of today's complex and broken arrangements, merely pile the Mount Pelion of complexity upon the Mount Ossa of impossibility.
That said, we need to talk about the 'c' word – commercialism. In taking back control of their financial destiny, one lever at hand for our councils is the ability to generate revenue independently and, in that time-honoured Tudor phrase, 'live of their own'.
There has been a long and proud tradition of this from the annals. King John, admittedly in the words of AA Milne not a 'good man', had the rebuilding of London Bridge financed from money raised by land rented for grazing sheep.
Zooming up a few centuries, Joseph Chamberlain's 'gas and water' municipalism brought commercial muscle to deliver a dramatic transformation in the people of Birmingham's living conditions. Chamberlain's municipal reforms saw the purchase of private gas concerns and use of their consolidated profits to then buy out and improve the city's water supply.
Indeed, when he was Coalition growth guru, the opening to Lord Heseltine's No Stone Unturned report featured a charming portrait of Chamberlain, to which were appended the following words:
"Unless I can secure for the nation results similar to those which have followed the adoption of my policy in Birmingham… it will have been a sorry exchange to give up the town council for the cabinet."
Would a contemporary Chamberlain or 'Brexity Hezza' find that – in Jeffrey Bernard's phrase – today no good deed goes unpunished?
In recent years of course, with negative examples that can't be safely hidden from view, some instances of council commercial activity has gone seriously awry. There's a short litany of examples to wheel out for the occasion: Nottingham City Council and Robin Hood Energy and of most recent spectacular note; or Croydon Council and 'Brick for Brick' debacle which ultimately led to special measures.
It is fair to say that commercialism in the local government context has become, by dint of media exposure, a dirty word – an activity to be handled with the utmost of care, like a financial Chernobyl.
However, there is a Conservative case for not throwing baby out with the bathwater and continuing this golden thread of self-sustaining self-government. Well-managed and with risks accounted for, commercial activity has the potential to deliver more responsive and innovative services to residents.
This isn't an agenda for casino investment, putting local taxpayers money into speculative out of town shopping centres or amenities. Such behaviour is now precluded, and on balance rightly so.
But there is a case for investing in place and for unlocking, by dint of working with the private sector, the kind of innovation local government is always thirsting for and which has the potential to accelerate how highly valued local services, for young and old, are delivered.
A poster boy for this is Cllr Peter Fleming's Sevenoaks District Council in Kent, which through strong and savvy leadership has leveraged investment in place to put the council on the road to self-sufficiency amid continued service improvement.
So in defence of well-managed council entrepreneurialism, Localis and Human Engine have today issued a research paper, The Commercial Edge – renewing the case for the local investment state', in which we argued that, when carried out professionally and with risks properly-managed, this agenda an unlock immense latent place potential and deliver many clear benefits to galvanise economic and social recovery.
In reframing the debate on local government commercialism, councils are advised to apply five common themes of commercial maturity around strategy and alignment; supply; demand, market intelligence and organisational culture.
The report also sets out a suite of recommendations to inform future commercial decisions aimed at local government leaders, town hall scrutiny members and central government partners.
The comments below will make for interesting reading. Accidents will happen and mistakes will always be made. Any failure at local level – whether of commerce or child protection – invariably results in the entire sector being branded unfit to exercise its functions and a fresh round of central inspection and intervention, a blizzard of wholesale blame and condemnation which never applies to the NHS's institutional lapses.
Renewing the agenda will also rightly require a fresh approach to local scrutiny and governance. And this has to be a case of metrics as much as optics. The immense rewards of capturing greater public and social value should be measured to encourage best practice across local government.
What is at stake here is that if the consensus is that all risk is off the table, we risk further infantilising local government to the old begging bowl act and strangle a long-tradition and strong spirit of municipal entrepreneurialism – one that is capable of adapting to present needs and circumstances.
We have a choice. Either forego this and let untold financial, economic and social value evaporate into thin air. Or support our council leaders to create public value – to bring into being from their commitment, commercial nous and acumen, valued local services and amenities that are useful, profitable and of great worth and even beauty.
Jonathan Werran is chief executive, Localis
This article first appeared in ConservativeHome on 18 June 2021