Why Oxford should be a focal point for post-pandemic and post-Brexit growth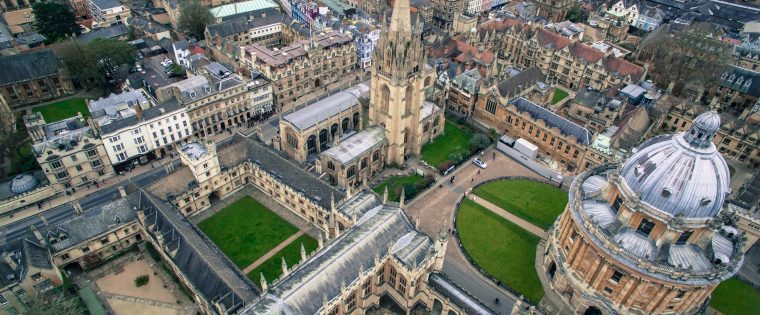 In recent weeks there has been a lively and engaging post-Budget debate on this website around the Government's Plan for Growth and its recalibration of industrial policy, enlivened by telling contributions from Greg Clark and ConservativeHome's own Paul Goodman.
The new business secretary, Kwasi Kwarteng has derided the ancien regime Industrial Strategy as "a pudding with no theme". Indeed, Andy Haldane, Chair of the Industrial Strategy Council went on record as saying that while the policy had the right aspiration it never translated into a measurable delivery plan.
Since 2017 some £45 billion has been thrown into a staggering profusion of 142 Industrial Strategy policies, many of which were unfunded, went down civil service rabbit holes and "self-liquidated". Like Bilbo Baggins, this amorphous policy pudding has been "sort of stretched, like butter scraped over too much bread".
There is a lot to like in the aspirations of the "Plan for Growth" prospectus. The danger though is that without a rooted sense of place, all this good stuff from the centre simply doesn't connect where it counts. It becomes like candy floss without the stick when applied regionally and locally. Only place – armed with local purpose and powers – can make the economic rationale for funding and investment cases cohere in a context and setting.
To support and buttress an economic recovery which is focused on innovation and a skills revolution, we should be calling for a greater emphasis on place and with it true localism, fiscal freedom and self-government. So in making the case for place to be at the heart of any central government plans for growth and levelling up, Localis is going to call upon Oxford as evidence for the prosecution. 
It's the ideal place to start, as Boris Johnson's articulation on the case for a Global Britain did yesterday, which took as its starting point the Prime Minister's visit last September to the city's Edward Jenner institute where he saw early proof of its efficacy. 
With unrivalled assets alongside the university, the city is our national poster boy for research and development. And, courtesy of the vaccine, an exemplar of translational research in action.
Oxford must and will, therefore, be a focal point for post-pandemic and post-Brexit growth as the beating heart and hub of the UK's knowledge economy, as a coherent economic entity with an independent and unique strategic national offer. It contributes a tidy £6.75 billion in GVA to the national economy each year as a net contributor to Treasury coffers – not taking into consideration the knock-on effects of its activity, wider industrial assets and supply chains.
However, although Oxford is a compact and global city, it must be admitted that more could be done to strengthen the city's contribution to the regional, national and international economy. Despite the prevailing image of the city "dreaming spires", Oxford is the second most unequal city in the UK, with many long-term issues contributing to this disparity. Among these we can reckon earnings, housing, educational attainment, health outcomes and food poverty. Housing affordability is particularly stark – with a ratio of prices to earnings making it the least affordable city in the UK. 
Beyond the social, a multitude of economic factors are stifling Oxford from realising its potential as a city impact regionally and nationally. These include poor graduate retention, skills shortages for residents, crippling traffic congestion and a rail system caught in a bottleneck as well as the sluggish pace of delivering the infrastructure and housing.
So in short, there's a case for levelling up Oxford in its own right. This is something that takes on greater regional and national importance now the Oxford-to-Cambridge Arc, on whose innovative potential so much hope for national economic renewal lies.
Oxford and its economic and innovation assets are central cogs to both to wider Oxfordshire and Arc ecosystems and their Covid-19 economic recovery. However, it has also been noted as being "an area constrained by inadequate infrastructure, a stressed and fragmented natural environment, [and] escalating housing costs". These are all issues that hold it back from reaching its full economic and environmental potential.
How such a common purpose and ambition is to be maintained across tier-spanning local government partners, the local enterprise partnership OxLep and the Oxfordshire Growth Board and the Local Industrial Strategy and Economic Recovery Plan under "Plan for Growth" will be interesting, to say the least.
Whatever alphabet soup of new acronyms emerges, one thing for sure is that Oxford's ability to invest in its own good growth would allow for wider benefit to be seen across the Arc, and crucially, make the city a better engine for growth within it.
With strong city-led governance, Oxford would be able punch way above its weight with its international peers and leverage its unique assets and particular strengths to recover stronger than before. Focusing these assets in the right direction would streamline the city's local levelling up efforts to tackle transport and housing bottlenecks through delivering physical, digital and social infrastructure at pace alongside a long-term investment strategy.
There's a fiscal devolution ask too. In order to grow at city level, Oxford would need the ability to raise local levies to fund its placemaking efforts. Both on businesses, in a manner similar to the provisions laid out in the Business Rates Supplement Act, and on residents, in a progressive manner using council tax bands as a guide.
In our report At the right level – a strategic case for city-led growth, innovation and renewal, Localis also calls for appropriate financing in the shape of a long-term £1 billion endowment fund for supporting good growth within the city. This would address the central issue of budgetary uncertainty and would form of a single long-term investment strategy for city-led growth and with it power to target investment in among other things digital, smart energy and transport infrastructure and skills.
Additionally, Oxford alongside other cities key to the Oxford-to-Cambridge Arc's future growth, including Cambridge, and Milton Keynes need to have a clear voice within its governance, including direct representation on the proposed Arc Growth Body.
Since we can't deliver levelling up, an industrial strategy, skills revolution and zero carbon from the centre, then the Plan for Growth must swiftly take on board and exploit the unmatched convening power of the local state – an entity which includes not just local government but also the research and development clusters, major public and private employers – to plan and deliver levelling up and recovery.
Taking Oxford as a starting point, the same need for muscular and effective localism applies to other towns and cities. Not just those in the area of the Arc such Cambridge, Peterborough, Swindon, Milton Keynes or Norwich but universally, from Ipswich to Somerset, from Staffordshire to Middlesbrough.
If the souffle of economic success is to rise on the basis of innovation and skills revolution, it needs a scaffold to keep it from collapsing. So let Kwarteng's growth pudding have its theme, and let this theme be place – a dish confected from the finest locally-sourced growth ingredients. The proof will be in the pudding.
Jonathan Werran, chief executive, Localis