Disrupting the Housing Market
A policy programme to save the home-owning democracy
Author: Jack Airey |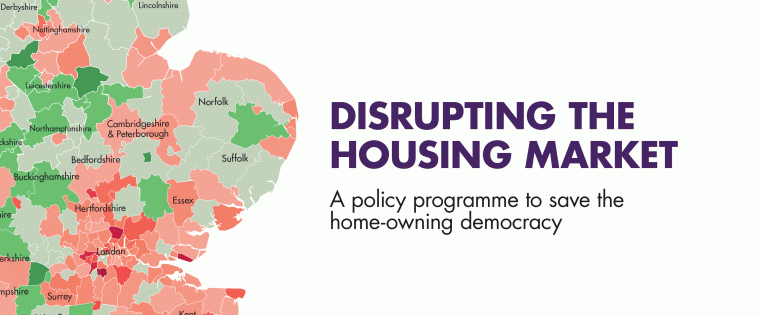 Disrupting the Housing Market
A policy programme to save the home-owning democracy
The number of homes bought by people aged twenty-five to forty-four with a mortgage has dropped by over 1.6 million in just over a decade. Over the same period the number of homes owned outright by people aged over sixty-five increased by over 1.4 million. What we are witnessing is the accelerated decline of the home-owning democracy and this should trouble us because it is an inheritance worth preserving.
As this report makes clear this is for reasons of cost, quality and security, but for more visceral reasons too. It is a bulwark against populism and radicalisation: when you have a tangible stake in society you are less likely to want tear it down. Most importantly home-ownership is an important life ambition, one that recent generations have enjoyed and future generations should too.
This report, however, is not blind to major structural challenges besetting the housing market. There is a clear connection between the hallmarks of the private rental sector and the ability of people to accrue enough capital to own their own home. Deep rooted and disruptive reform of the housing market is required. This report puts forward a policy programme to reform the private rental sector in order to extend the franchise of a home-owning democracy to future generations.
Key points and recommendations
Government should reform mortgage deposit saving. Fifty-eight percent of people who do not already own their home (outright or with a mortgage) are saving nothing at all each month for a deposit to buy a home in the future. Just twenty-three percent are saving anything. To prevent home-ownership being a preserve of the old and wealthy, the auto-enrolment of employees aged 18-40 to pension schemes by employers should include an option to make contributions towards a Lifetime ISA. Employees, employers and government would make contributions towards deposits (in place of, rather than on top of, pension contributions).
An approach to the green belt based on public welfare. The green belt is a part of the welfare state and yet it does not serve public welfare. Local authorities should be compelled to prepare, maintain and publish 'yellowfield' registers: land which does not meet the five purposes that green belt land serves.
A programme of new towns in the South East. London's reach extends well beyond its borders, but there is little to no strategic direction for the planning and delivery of new homes to meet the city-region and wider area's demand. Government should fill this gap by directing a next generation of new towns.
Disruptive state intervention in the housebuilding industry. To achieve greater diversity in business models, product and construction methods, government should: 1) Allow small sites that are brownfield or infill to qualify as permitted development. 2) Directly invest in modular and new technology housing factories. 3) Weight subsidy towards rewarding housebuilders who use off-site construction methods.
A more direct use of public land is necessary. Government needs a clearer strategy on disposal of land and assets by its own departments. This should include wider and more accessible public data coverage of non-operational sites and more pro-active departmental business models.
The private rental sector needs to be made family-friendly. Last year 4.5 million households rented privately of which 1.6 million were households with dependent children. For this group assured shorthold tenancy agreements are not fit-for-purpose. Government should reform legislation to allow private tenants to choose their initial tenancy length at six month intervals up to thirty-six months, with a one month break option after six months.
Saving the home-owning democracy demands a collective sacrifice. By homeowners, developers, financiers and savers. Only government has the platform to trigger this collective sacrifice and it goes against almost half a century of orthodoxy. Housing policy over the past few decades has been characterised by minimising the number of losers, generating as little productive activity as possible, rather than policy in line with public good. Most directly it is the young and private renters who have shouldered the cost of this failure.
Government should treat housing as a social service. Effective housing policy has only happened and only will happen when there is a strong enough political will from central government.The Grenfell Tower disaster holds the shortcomings of the state's long-running approach to housing up to the light. A fundamental rethink is now required on how the housing market functions and for whom.
Advisory panel
This research project was supported by an Advisory Panel, whose members are listed below. Advisory Panel members were interviewed and provided comments on report drafts. They may not necessarily agree with every analysis and recommendation made in the report.
Niall Bolger, Chief Executive of Sutton Council
Eamonn Boylan, Chief Executive of the Greater Manchester Combined Authority
Nicholas Boys Smith, Founding Director of Create Streets
Louise Brooke-Smith, Partner at Arcadis
Sir Merrick Cockell, Chair of London Pensions Fund Authority
Keith Exford, Chief Executive of Clarion Housing Group
Liam Halligan, Columnist at the Telegraph
Sir Edward Lister, Chair of the Homes and Communities Agency
Toby Lloyd, Head of Housing Development at Shelter
Sadie Morgan, co-founder of dRMM architects
Brian Reynolds, Programme Director at One Public Estate
Kindly supported by

Further information
For more information on the report in general, its findings or its recommendations, please get in touch with jack.airey@localis.org.uk.
Disrupting the Housing Market
A policy programme to save the home-owning democracy